ECE Planning worked on behalf of clients Century House Ltd and with Haines Phillips Architects to obtain planning permission at 105-109 Montague Street within Worthing town centre for a 26 unit residential development and new ground floor retail unit.
The scheme includes the demolition of the tired and outdated Poundland building and its replacement with a high quality modern 4-storey development comprising retail floorspace at ground floor level with 26 residential units above and a communal courtyard at first floor level.
The site sits within two Conservation Areas and is located adjacent Listed Buildings. As a result a sensitive design solution was required, sympathetic to the surrounding heritage assets. The proposal comprises a series of distinct elements responding to the different characters of three street frontages. Materials include both brick and render.
The proposed development will provide much needed housing in a highly sustainable location. The Case Officer for the application concluded that 'the proposal is a significant improvement, far more fitting with its conservation area location and listed neighbours, than the existing building. The use of different architectural styles but harmonised detailing has been well considered.' The Case Officer also recognised how much this development would revitalise this prominent retail corner.
AUTHORITY
Adur & Worthing Council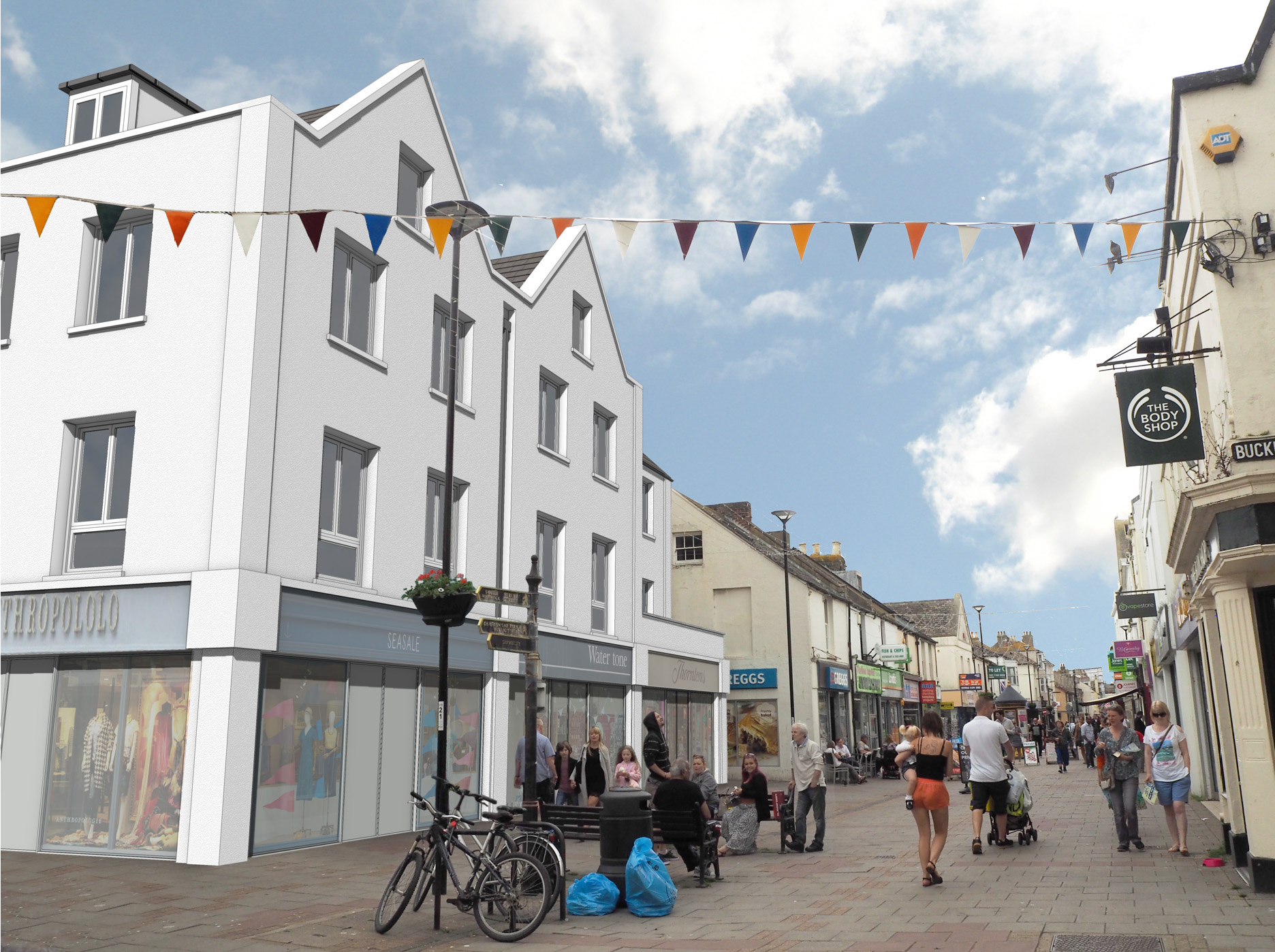 Oliver Bardsley, Vistry Group
"The planning team were very proactive and were in constant contact with ourselves. They have been monitoring and chasing down all aspects of the project from conditions to getting responses from the case officer.
Rebecca Hoad has been highly praised by our Technical team for dealing with conditions, chasing them down and ensuring they are on top of all information submitted."
Simon Lewis, Development Director, St William Homes
"A fantastic result and team effort. However, there is no way we would have got our scheme permitted without ECE. You have been the game-changing ingredient!"
Rod Flavell, President, Saltdean United Football Club
"Working with ECE's planning professionals has been a pleasure.
A process as complex as Saltdean United's application to redevelop its facilities for our communities' future generations of adults and children to enjoy in an area of outstanding natural beauty was always going to take a sensitive touch to balance the needs of all the stakeholders.
We are delighted to say the ECE team dealt with the challenges with great patience, persistence and professionalism.
Its been a long but ultimately fruitful journey to this point and we are under no illusions that there are many more challenges to come as we move to the development phase but with ECE's continued support we believe that the club will deliver a legacy for future generations to enjoy."
Matt Heath, Director Dawson Heath Property Ltd
"Once again an excellent service from the Planning team at ECE. Good value, great attitude to work, proactive and easy to get along with."
Ben Cheal, Managing Director Roffey Homes Ltd
"ECE Planning have provided a friendly, yet highly professional service, displaying both their detailed planning knowledge and strategy on many occasions. Chris, Sam and Karen have been consistently excellent on managing the planning aspects of all projects we have worked with them on, and would hope to continue that relationship beyond the current live and recently completed projects."
Tim Warren, Planning and Land Manager, Jenner Group
"We have worked closely with ECE for a number of years and continue to build on an excellent working relationship with them based on true collaborative working and trust. ECE have undertaken feasibility work, planning advice, planning submission and working drawings for us on a number of projects and we have always found them to work to a high quality and professional in their approach. We will continue to enjoy working with them on future projects as our experience with them has always been very positive."
Tim Hague, Director of Property & Development Shoreham Port
"Sam and the team at ECE Planning have successfully steered three complicated commercial schemes through the planning system on behalf of the Shoreham Port Authority. We have been impressed by the professionalism, efficiency and dedication to progress our projects through the planning system under challenging timeframes. We are absolutely delighted with the results."
Sammi Charad, Development Manager, Shaptor Capital
'ECE excelled in providing clear advice in our recent planning appeal and other successful projects. We are very happy with the advice and service we have received from Huw and Ben.'
Darren Jacob, Managing Director, ValidusLM
"ECE Planning have always worked pro-actively to address challenging planning matters, solving problems as they come up on this complex site. Chris and Sam managed the intricate submission and relationship with the client and key stakeholders with a dynamic and always positive 'can-do' attitude. I look forward to working further together."
Alan Goldberg, CSN Homes
'Huw and Karen at ECE have been fundamental in delivering some challenging brownfield sites on our behalf. They have provided clear professional advice ,without delay and we look forward to working with them again.'
Clive Lawrence, Senior Design Manager, Kier
"ECE have worked with Kier to deliver a number of projects, often on challenging sites. Huw and Karen have provided clear professional advice and worked proactively on each of our projects. We have forged a good working relationship and we look forward to working with ECE again.'
Sam Wiggins, Oceanview Developments Ltd
"ECE Planning were instrumental in getting our Reserved Matters and associated conditions applications positively determined under very challenging circumstances. We've been thoroughly impressed."
Brian Wilkinson, Private Client
"We are so pleased - indeed delighted - to get planning permission after such a long journey (I think we initiated this process back in 2015!). Thank you to all involved at ECE for your efforts. A great result."
Terry Brightmore, Terra Firma Designs
"Once again an excellent service from the team at ECE. They were able to interpret our design brief and work around the site constraints and were also able to increase the scale of the scheme from 16 to 24 units, increasing the value of the project and taking leadership of the planning process."
John Longhorn, Planning Manager, Vistry Homes
"Working with both ECE Architecture and ECE Planning is a seamless and exceptionally well managed process. Planning considerations are integrated fully with the design approach from the outset. Chris, Sam, and Nick have been excellent in managing the planning aspects of many schemes, always taking a proactive, pragmatic and responsive approach to delivering difficult projects in challenging timeframes."