At ECE we feel it is vital to raise awareness of Women in the Construction industry, helping to build confidence earlier and promote gender equality in the construction sector and within ECE Group.   
ECE are proud to have an active Women in Construction Working Group, providing networking opportunities and knowledge sharing over lunchtime seminars, round table discussions and external events sponsored by ECE.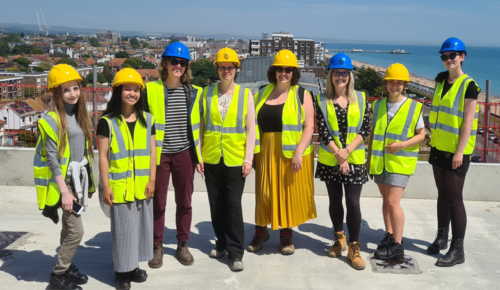 These events create a supportive network, helping voices to be heard and empowering people early in their careers through hands on experience and knowledge sharing.
We are excited to announce that we have our inaugural Women in Construction Sussex event taking place on Thursday 20th October 2022 from 5pm – 7pm at the ECE Sussex studio.
The event will consist of a short talk from a topical guest speaker, a fun and interactive cheese & wine tasting providing a great opportunity to connect with fellow women in the building and construction industries within Sussex.  Tickets can be purchased via Eventbrite (spaces are limited).